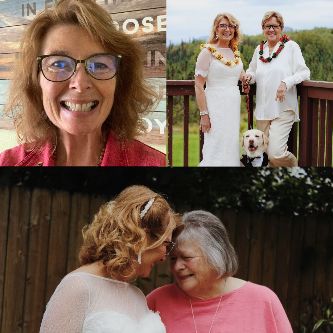 Cindy Hensley (She/Her)

Inspired, Passionate, Grateful, Blessed, Awed, Uplifted, Joyful, and Filled with Love…This is how I feel when I walk into 'work!' It's the same way I felt in 1999 when Vicki & I followed a 'nudge' to open an Agency where people come together to learn, laugh, create, grow, and have FUN together. Friendships were born, and today they continue to grow and flourish.

I am continually learning from the people we get to provide services for. Their unconditional love for life and each other inspires me to be a better teacher, leader, and human being. Add to that the most talented, dedicated, unique, humble, and passionate Direct Support Professionals and Administrative Team…and you've just created the Perfect Brew. Drink it in daily and it will promise to heal all that ails!
As for me, I love yoga, walking in nature, playing with our dog Max, and spending time with my family. I'm blessed with two beautiful homes in the most amazing places on earth, Alaska, and Hawaii. I share my life with my wife Pat, who supports and inspires me to follow my passions daily. I'm a Spiritual Practitioner with the Alaska Center for Spiritual Living and the Prayer Chaplain Director at Unity Church of Hawaii. I begin each day with prayer and meditation as it helps keep me present to the Presence of my Higher Power and PRESENT in the Now moment throughout my workday.
I'm grateful for the amazing Life I get to live, the people who support and love me, and for ALL people who shine their Love Light out into the world and make it a better place to live! Peace & Love to us all!
---